Esteemed Members, Radhey Shyam,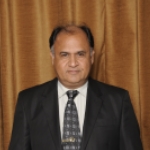 At the outset let me confess that the year 2014- 2015 has been a wonderful & fruitful year. This year when I took over on Sept 14th, we had the ongoing projects in our hand which we completed during the year. We Inaugurated the Naraindas Hinduja Hall on 6th December 2014 and few months later we also inaugurated the Sindhi Seva Bhavan on 22nd February 2015.
We had a plethora of dignitaries during the inauguration from our Sindhi Community across India, Sri Parmanand Khatter Sindhi Council of India- National President, Sri Shrikanth Bhatia Fmr Vice-Chairman NCPSL, Sri Sudesh Sachdev Chairman-Sindhi Academy, Sri Shyam Jumani Past President- Sindhi Federation of South India and Sri J C Prakash President of Sindhi Federation of South India. Sindhi Seva Bhavan houses Sindhi Seva School & Sindhi Academy of Skills. I take privilege to say that our Skill classes have begun from 9th of September with 32 students in the 1st batch. We have started with a small step in giving training in 2 fields, Plumbing & Electrical and Retail. We will add on further skills as we get our foothold strong in the skill training. I thank the Chairman Sri Rajkumar Kukreja and his team of Office Bearers for their efforts. Our New Project Committee Chairman Sri Madan Doulatram along with his Team is working aggressively in search of identifying a land for the Future Vision of our Samiti.
The Samiti & its Group of Educational Institutions has achieved many firsts in the year 2014-2015, for the first time the grant of Scholarships have crossed 7 figure mark, the total amount of freeships for the academic year 2014-2015 is Rs.13,322,420/- This year has been a year of major achievements in the Academic field. 1st time a student of our College has secured 9th rank in 2nd PUC board exams all over Karnataka. In our Degree College also approx 25 students in final B.Com, BBA & B.Sc have been subject toppers in Bangalore University. As has been the tradition our Schools also have achieved outstanding results and have kept our institutions flag flying high. Sindhi Seva School students have also performed well in their annual exams. We have also taken a small step towards professionalism and have appointed additional executives in all the institutions to reduce the workload of Principal & to a small extent of Office Bearers. Detailed reports are given by respective Hon. Secretaries of the respected Institutions. The responsibility of leading this Prestigious Institution Sindhi Seva Samiti is quite demanding and with a team of dedicated Team Members, we have scaled the new heights in the Education field, Social responsibilities and also maintaining 'HIGH' the Morals of this Great Institution Sindhi Seva Samiti.
I thank the donors for their generosity, a mention here for Parmanand Bajaj family. A big thank you. I take this opportunity to sincerely thank my Team of Office Bearers who have been the pillar of strength for me in taking right decisions and making my journey a learning experience. I thank from the bottom of my heart to all the Members of Managing Committee, School Governing Council and Board of Management for guiding and supporting me in discharging my duties, I am grateful to them. I would also thank all the Chairmen of various Sub- Committees and their team members for their efforts. I also thank the Past Presidents for their unstinted support. My Sincere gratitude to all the executives of the Sindhi group of Institutions for their vision in making our institutions to reach new heights. My gratitude to all the Members of Seva Samiti for their support in all my endeavours. My humble Pranams to the Lord Almighty and my Elders to shower their blessings on me throughout my Life. I look back and thank God, look forward and trust God, look around and serve God, look within and find God. Thank you and Radhey Shyam to one and all.
President
Sindhi Seva Samiti